TriPod RG500 Air Filter & LG3T RG500 Float Valves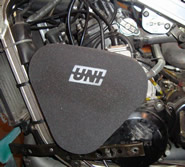 The TriPod RG500 air filter delivers a host of improvements. Some make it work better; some make it more servicable.
The TriPod design creates a staggering increase in still air volume. Still air volume is the holy grail for airboxes because it smooths out the airflow. The TriPod RG500 Air Filter system delivers as much air as the carbs can ingest. It flows as well as open carbs.
The new removable foam design is much easier to clean and service. The filters are much easier to install because of new soft rubber flanges. These features combine to make the TriPod the most advanced RG500 air filter system ever built.
The RG500 Air Filter Kit consists of:
2 x RG500 Air Filter elements
2 x Air Filter Frames
4 x LG3T High Flow Float Valves
4 x your choice of 240 or 250 main jets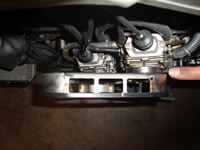 The all-stainless construction is impervious to the elements while offering a 15% weight savings when compared to the original Lance Gamma four seperate RG500 air filters setup.
When combined with the LG3T RG500 float valves and proper jets, optimum intake performance is assured. These low profile filters easily fit under the stock bodywork and allow ready access to the motor bay for spark plug changes.
Complete instructions for installing LG RG500 air filters are presented here.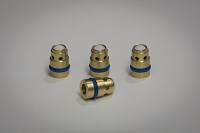 The LG3T ball valves represent the pinnacle of fuel valve development. They are a quantum leap forward compared to previous designs. Precision machined parts which are carefully assembled and inspected ensure that the Teflon enhanced LG3T ball valves really perform.
They provide increased rate of fuel delivery so your bike won't "run out of gas" during long WFO episodes. For example, coming out of a 3rd gear corner onto a long straight burns a lot of fuel climbing from 3rd to redline in 6th. Stock float valves cannot fill the float bowl fast enough to keep up. The bike may "run out of gas" before the end of the straight. This can allow the big heavy 4Strokes you zapped back at the beginnning of the straight to come back past. These ball valves keep your bike screaming full tilt as long as you can keep the throttle open.
Every critical dimension has been tweaked for optimum fit, flow and function and I'm very pleased with the results.
RG500 Air Filter Kit including frame, filters, and valves - $400 plus shipping
RG500 Air Filter Elements only - $70/pair plus shipping
LG3T High Flow Float Valves only - $210/set of four plus shipping.